Plants prefer Geordie accent claims garden centre owner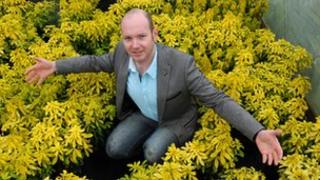 That talking to plants or playing them music encourages their growth is a familiar old wives' tale among gardeners - but how about playing recordings of Cheryl Cole or Ant and Dec?
A garden centre owner in Essex is not only claiming that speaking to plants works, but that the Geordie accent produces the best results.
Chris Bonnett, who runs a four-acre nursery in Chelmsford, divided his plants into ten experimental groups.
Each was made up of about 100 bedding plants including geraniums, petunias, begonias and marigolds.
Staff spoke to them in a particular regional accent and played them the area's music and television programmes.
"We measured and weighed the best performing group against the worst performing and discovered an average of between nine and ten per cent more growth," he said.
"The Geordie and Welsh groups visibly thrived and displayed enhanced growth while the Scottish, Chelsea and Mancunian plants were stunted."
'Natural variation'
The Mancunian, Chelsea and Scottish geraniums grew to between 27cm and 28cm, the American, Yorkshire, Scouse, Australian and Essex specimens reached an average of 30cm, the Welsh ones were 32cm, just beaten by the 33cm Geordie group.
Some gardeners believe sounds of between 125Hz and 250Hz may affect gene expression in plants and help them grow.
However, Guy Barter from the Royal Horticultural Society says he does not believe "a word of it".
"First of all there is no real mechanism by which music could affect plants," he said. "Secondly no-one's ever produced the slightest bit of proof that would withstand scientific scrutiny.
"Last time it came up we got our plant physiologist to search the academic papers and she drew a blank."
He said plants "vary enormously" and it is hard to "disentangle chance and natural variation" from whatever is done to them as part of an experiment.
Mr Bonnet, owner of online garden centre Gardening Express, said the winning plants were played Cheryl Cole and Ant and Dec's PJ and Duncan albums, as well as DVDs of the reality television programme Geordie Shore.
He said they gave the plants the same amount of sunlight, water and nutrients but started seeing differences in plant growth rate.
"By the end of the summer it was clear that the accents had a huge effect," he said.