Eye injury girl India Redhead in fireworks warning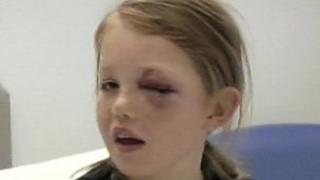 A girl who almost lost her sight in a fireworks accident is the face of her local fire brigade's bonfire night safety campaign.
India Redhead, from Hadston, near Morpeth, Northumberland, was eight when she was hit in her left eye by a stray firework at a party last year.
She underwent surgery and had her iris removed, limiting her vision.
Now the youngster features in a safety video for the Tyne and Wear Fire Service being shown to schoolchildren.
India's mother, Deborah Duke, said: "Almost one year later, India is still having treatment.
"She has to go for a lens to be fitted every four weeks to help her try and see a bit better, but at the minute it still isn't working properly.
"Her eyes often play tricks on her, she sees things that aren't there because she hasn't got full vision."
'Devastating injuries'
India added: "At school I have to sit at the front of the class because I can't see properly and I have to wear goggles to play sport.
"I can't stare straight at things because my eye will start to hurt, so I have to keep moving it round."
As well as her physical injuries, India has been left traumatised by the accident and is now terrified of fireworks.
A fire service spokesman said: "We want everyone to enjoy Bonfire Night.
"However, as India's story shows, bonfires and fireworks can cause devastating injuries, even if you are being careful.
"India's family and their neighbours took sensible precautions, but this terrible accident still happened."
The video is being shown to schools across Tyne and Wear in the run up to Bonfire Night on 5 November.