County Durham man rebuilds Puffing Billy family train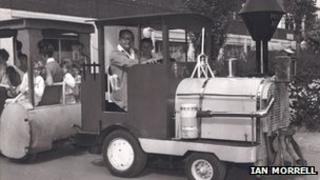 A man from County Durham has spent 12 months recreating a children's passenger train.
Ian Morrell, 53, from South Hetton, used a picture from 1969 to work out the dimensions of his favourite train from his childhood and rebuild it.
Puffing Billy was used to carry children and families across the seafront in Filey in North Yorkshire.
Mr Morrell hopes to use the faux steam train, built from an aircraft tug, for families to ride on.
Mr Morrell fell in love with trains as a 10-year-old when he rode in the front seat of the original Puffing Billy on a family holiday in August 1969.
"On a Saturday it would pick up the passengers from the train station and bring them to the reception of the camp [in Butlins]," he said.
About 40 years later he wanted to rebuild the train from scratch.
He used the old photograph for the design and worked out the dimensions of the train by the size of the newspaper in the driver's pocket.
A diesel engine powers the machine, a brass whistle makes all of the right noises and two smoke machines give the impression of a steam-powered train when travelling.
He said: "It started life as an aircraft tug, it's capable of pulling 11.5 tonnes (11,500kg). It will pull carriages quite easily.
"It has a brass lantern, a brass whistle that actually works.
"Billy also has two smoke machines that generate smoke through the funnel and from underneath to give you that realistic feel."
Mr Morrell is hoping to acquire carriages to attach to the train and let families ride on it.
After completing the train, he recently travelled to Filey but was disappointed to learn that the original train had been scrapped.