Bill Bryson opens Durham University's £11m library wing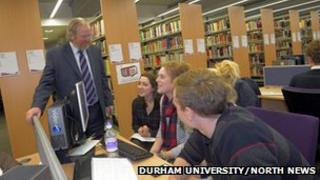 Former Durham University chancellor Bill Bryson has returned to the city to open an £11m extension to the university's main library.
The library has also been renamed after the 60-year-old American-born writer, who stepped down from his role in 2011.
The library revamp is part of a larger £60m project, which includes a new law school and student support centre.
Dr Bryson, who served as chancellor for six years, said having the library named after him was a "great honour".
The new library wing provides 500 new study spaces across four floors.
'Great honour'
Dr Bryson, who was at back at the university for the first time since stepping down last year, said: "As somebody who has been privileged enough to have books at the centre of my life, I can't think of any greater honour than to give my name to Durham University's library and the pursuit of learning for generations to come.
"Libraries and books are a doorway to a whole new world - democratic access to a galaxy of infinite possibilities beyond the routine and the mundane that really make life worth living."
The Bill Bryson Library, which is built on a former colliery and is the largest of five at the university, houses the majority of its modern printed book and journal collections.
The new East Wing has enabled the university to make 120,000 books, previously in storage, available in open access shelving for the first time.
County Durham-born opera singer Sir Thomas Allen took over from Dr Bryson as chancellor.