Tribute fire engine leaves Northumberland for Paraguay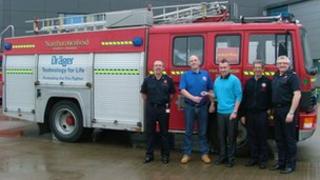 A North Tyneside fireman who died of cancer has had a fire engine named after him and donated to help services in Paraguay.
Michael Waite, from Blyth, worked at Northumberland Fire and Rescue Service (NFRS) before he died in 2007 after a two-year battle with cancer.
Now the fire service has named a decommissioned engine after him which will be donated to charity.
Assistant Chief Fire Officer Paul Hedley said it was a "fitting tribute".
The 18-year-old appliance served as a frontline vehicle for 15 years in Northumberland.
It is the fifth appliance to be donated to the International Fire and Rescue Association which has helped modernise fire and rescue services in Albania, Romania, Bosnia and Paraguay.
'Sadly lost'
Mr Hedley said: "It seemed a very fitting tribute to dedicate it to the memory of Michael Waite. Michael an officer, friend and colleague sadly lost his fight against cancer while still a serving member of NFRS.
"I'm sure he would be delighted to know that a fire engine from Northumberland, bearing his name, will be used to improve the professional delivery of a critical life-saving public service in another country."
The appliance will be used by volunteer firefighters in Cuidad del Este, Paraguay.
Mr Hedley said the donated fire engines were able to have a "second career" and continue helping "save lives and protect property".