Benton and Seaton Burn shootings could be linked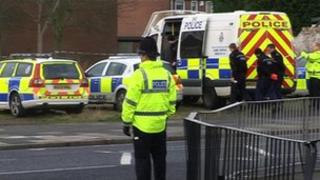 Two shootings outside North Tyneside pubs could be linked, Northumbria Police say.
Further arrests were made on Thursday after a 54-year-old man was shot outside the Six Mile Bridge Inn in Seaton Burn on 4 January.
Detectives then searched other addresses in connection with an earlier incidents in Benton on 14 December when a 47-year-old man was targeted.
Police said the inquiry was centred on "internal disputes between criminals".
Supt Peter Farrell said: "We will be focusing our actions on every aspect of their lifestyle - looking at them, their associates and the places they visit.
"This will continue until we've taken every possible measure to bring to justice those involved."
Houses searched
A total of 10 people have now been arrested in connection with the Seaton Burn incident after two men were held in Wallsend on Thursday.
More homes across Newcastle and North Tyneside were then searched and the force said it expected to make more arrests.
Seven people have been arrested in connection with the Benton shooting, which happened outside the Wheatsheaf pub.
A Northumbria Police spokesman said the incidents could be connected.
"It's possible that they may be linked and we're pursuing every line of inquiry," he said.
Both victims received hospital treatment but their injuries were not believed to be life-threatening.