Ticketing revamp to close Monument Metro station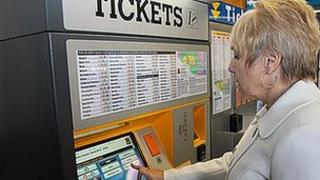 One of Newcastle's busiest Metro stations is to face ongoing closures as part of a multi million-pound project to update ticket machines.
Monument Station is now closing from 20:00 GMT on Monday to Wednesday evenings, for the next three weeks.
Passengers will still be able to change trains and platforms for connections, but will not be able to enter or leave the station.
A total of 225 new machines are being fitted at 60 Metro stations.
Monument Metro station is one of the 10 busiest railway stations in the English regions, with more than 10 million passengers using it every year.
A spokesman for Metro owner Nexus said: "It is not possible to safely do this modernisation work, which involves digging up sections of floor, without closing the station for short periods.
"We did consider working only when the station is normally closed, but this would have taken months and meant tens of thousands of passengers passing through a partial building site during the day."
Nexus has so far upgraded 52 Metro stations with smart ticket machines which are capable of accepting credit and debit cards and banks notes, as well as coins.