North East faces travel disruption 'risk' from overnight snow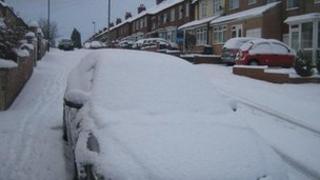 A warning is in place for the north-east of England as up to 5cm (2in) of snow is expected to fall overnight.
The Met Office said snow is expected to become heavier and more persistent, with significant accumulations likely by the morning.
Commuters should be aware of the risk of disruption to travel on Monday morning, the Met Office said.
Cloudy and persistent snow is expected for much of Monday with temperatures expected to drop to -2C (28F).
Northumbria Police said there had been no reported problems on the roads on Sunday.
Martin Young, Met Office chief forecaster, said: "Many parts will stay icy over the next few days, and there is the continuing risk of some snow at times almost anywhere.
"Everyone should keep up to date with the latest weather information and plan ahead for possible travel delays and disruption to transport during this spell of wintry weather."