Vantec Europe warehouse brings 230 jobs to Sunderland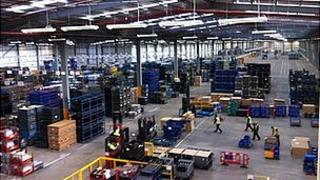 Work has been completed on a massive warehouse construction project which will create 230 new jobs in Sunderland.
Vantec Europe's 421,000 sq ft site at Turbine Business Park will be the hub of its automotive supply business.
The company, which is owned by Hitachi, already employs more than 800 people and has Nissan among its customers.
The Japanese company was awarded £2.7m from the second round of the Regional Growth Fund to help pay for the £22.5m warehouse project.
Akira Koyama, president of Vantec, said: "This is our largest-ever overseas project. The new warehouse is already helping us to secure new contracts and expand our workforce."
Sunderland City Council leader Paul Watson said: "Vantec's new warehouse is an ambitious project which echoes our city's world-class ambitions to be Europe's automotive hub.
"The new jobs are the best possible news for the city, the region and the UK."
Communities Secretary Eric Pickles added: "This is testament to the potential of Enterprise Zones to deliver growth across the country.
"The government is fostering local enterprise and creating the conditions for businesses like Vantec to further invest and thrive in low tax, low regulation Enterprise Zones."