Newcastle Council finds £600,000 for arts sector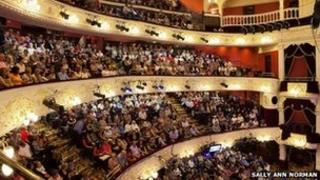 An independent panel will decide how an annual fund of £600,000 is to be spent on arts and culture in Newcastle.
The city council has announced the investment after originally proposing a 100% cut to its arts budget, prompting protests from local artists including Sting and Mark Knopfler.
Its commitment to the sector previously stood at around £1.15m per year.
But council leader Nick Forbes said the value of the arts had "never been in question".
"What's been in question is the money to fund them," he said.
The council is inviting other interested parties to contribute to the £600,000 fund which will welcome bids for three-year grants.
Mr Forbes said it was "not a u-turn" but a "completely new way" of funding the arts.
It is hoped that the "groundbreaking" fund will be kept going by contributions from residents and businesses.
'Positive' outcome
Mr Forbes said the sustainable cultural investment fund would "protect the arts" from the "boom and bust of public finance".
Newcastle's plan to cut all funding for venues including the Theatre Royal attracted widespread attention with deputy Prime Minister Nick Clegg calling it "shameless political opportunism and cynicism".
On Wednesday, the council announced that the City Hall, which is currently "under review", could be taken over by the Theatre Royal Trust.
A Newcastle City Council spokesman said: "Conversations are still at an early stage and a lot more work has yet to be done but we remain optimistic about a positive outcome."
A petition to save the 85-year-old venue has more than 11,500 signatures.
The council is attempting to make £100m of savings from its budget.