Olympic torchbearer's wheelchair stolen in Newcastle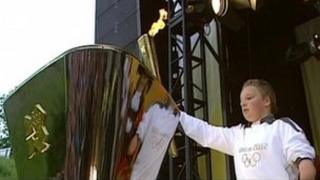 The wheelchair belonging to a teenager who carried the Olympic torch in Newcastle has been stolen.
William Hardy's chair was taken from outside a house at Holly Avenue in Jesmond between 20:00 GMT on Saturday and 14:00 GMT on Sunday, police said.
The 15-year-old lit the cauldron in Newcastle in June 2012 year as part of the Olympic torch relay.
The Freeman Hospital, which loaned the chair to William, said it will be replaced at the "earliest opportunity".
Neighbourhood inspector Louise Cass-Williams, said: "The wheelchair was stolen from outside the house and it's beyond belief that someone would steal it, knowing full well it's an essential piece of equipment for someone who has a disability.
"This is a despicable and heartless crime with absolutely no thought whatsoever for the impact this may have on the victim."
After contracting meningitis when he was 23 months old, William's legs and half his left arm had to be amputated.