Saving Newcastle's Turkish Baths from closure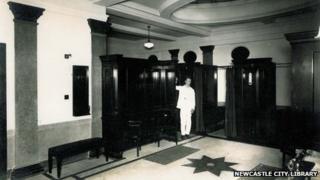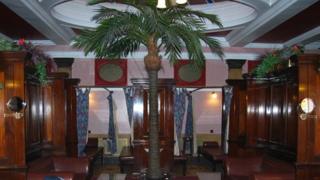 Set against a Victorian backdrop in the heart of Newcastle, and visited by celebrities including the Hairy Bikers, Victoria Wood and Jenny Agutter, a "unique" venue is facing closure.
Newcastle Turkish Baths on Northumberland Road opened in 1928 and is one of only 11 Victorian Turkish baths in England.
But, Newcastle City Council plans to close the baths and the City Pool as it makes cuts of £100m to its budget over three years.
A concept originally developed by the Greeks in about 1700 BC, the idea behind a Turkish bath is to wind down and cleanse the body in a warm relaxing setting.
And this is exactly what people do at the Grade II-listed building in Newcastle: take a plunge in a whirlpool bath, enjoy a steam in the hot room, and then cool down in the exotically decorated rest area.
'Heritage and community'
Boasting original Victorian features, with marble fittings, dark wood panelling and ceiling fans, it gives visitors a "feeling you're back in 1928", says Joan Hewitt.
Ms Hewitt, who is a retired lecturer, has used the baths for years to relax and meet people.
And she's not the only one - the Hairy Bikers recently filmed their cooking programme at the baths and Victoria Wood and Jenny Agutter have been known to visit in-between theatre shows.
The 67-year-old has now started a Keep Newcastle Turkish Baths Open online petition which has about 860 signatures.
She said: "For me, it is the beauty of the place and all the original features it still has. It is the perfect place for a quiet chat, a cup of tea and some fruit.
"Some of the ladies that go have been using it every week for 40 years. It's wonderful - it has a real sense of heritage and community."
Newcastle City Council announced plans to shut the pool and baths, which employs 23 members of staff, last year.
It said that it "fully recognised" that the Turkish Baths is seen as a "unique service" in an "iconic building", but it would not be "financially viable" to close the pool and retain the Turkish Baths.
The council said if an interested party came forward to take the premises over, then the council would "talk to them".
'Quirky and unique'
Visitor numbers at the pool have decreased in the last five years, with 133,839 people attending in 2007-08, compared with 109,418 in 2011-12.
Ms Hewitt says the baths are used by young and old, religious groups and professionals.
She believes that a lack of marketing is why a lot of people in the North East are unaware of the baths' existence.
Ms Hewitt said: "We think it has been undervalued - they [the council] haven't realised what they had in their hands.
"They [the council] will be neglecting the community if it closes. We are trying to persuade the council to not relinquish control but to hold on to the historic aspects of the baths.
"We want people in Newcastle to enjoy it."
Barry Jardine has worked at the Turkish Baths for 22 years and thinks it is "good value" and a "good public service".
He said: "It's fantastic, it's a way of life for me. It's quirky and unique and everyone should be proud of Newcastle's heritage."