Vintage shoe collection sold at auction for £1,100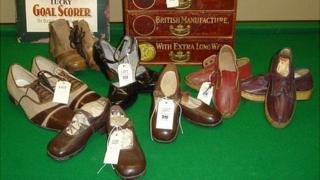 Vintage shoes collected by a man during his 55-year career in the footwear industry have gone under the hammer in Newcastle.
Brian Bennett salvaged items of old stock which had been forgotten about or had gone out of date.
The 20 pairs of shoes, clogs and boots, dating back to the 1900s, were sold at auction at Anderson and Garland.
An antiques dealer from the south of England, who asked to remain anonymous, paid £1,100 for the collection.
Mr Bennett, 70, and now living in Amble, discovered the unworn items during visits to stores while he was an area manager with a company in Scotland.
He said he collected them because "things were well made in those days, and anything that's well made you can't throw away."
Prior to the sale, Mr Bennett said: "I hope the collection goes to someone who appreciates it, and that it will live a long life."