Vera Baird stands by Rennard and O'Brien tweet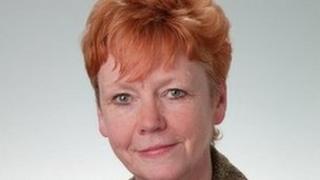 Police and crime commissioner Vera Baird has defended her tweet about the Liberal Democrat peer Lord Rennard and Cardinal Keith O'Brien.
It said: "O dear, maybe Clegg knew all along & didn't try to keep his party women safe from a sexual predator. BTW Is Cardinal Keith O'Brien a LibDem?"
Ms Baird denied it implied guilt.
Both Lord Rennard and Cardinal O'Brien, former leader of the Catholic Church in Scotland, strongly deny separate allegations of inappropriate behaviour.
Speaking to BBC Newcastle, the PCC for the Northumbria force claimed what she had written on Twitter on Tuesday did not suggest the two men were guilty of any wrongdoing.
In an angry exchange on air she said: "That is not what is said there. You're incorrect. Your interpretation is quite wrong."
'Back off'
Ms Baird did not accept she should have made it clear the two men deny all the allegations against them and that her tweet could be interpreted as suggesting otherwise.
"You really just need to back off this. Of course I do know the difference and there is nothing in that tweet at all that suggests the contrary," she said.
The former solicitor general and Labour MP for Redcar until 2010 believes Lib Dem leader Nick Clegg should have taken complaints against Lord Rennard more seriously.
"If I have complaints to me in my office of sexually predatory conduct and I do nothing about it, you and the press would be the first people to criticise me profoundly," she told BBC Newcastle.
The Lib Dems have so far declined to comment on Ms Baird's tweet, or her defence of it.
Former Liberal Democrat chief executive Lord Rennard quit his party role in 2009.
He has faced accusations of sexually inappropriate behaviour towards a number of female activists, which he strongly denies.
Cardinal Keith O'Brien retired as Archbishop of St Andrews and Edinburgh earlier this week, following accusations of inappropriate behaviour towards priests in the 1980s. He contests the allegations.
Separate and unrelated investigations are under way.