Durham Light Infantry auction silverware for memorial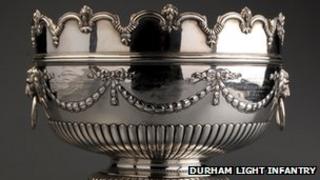 A military regiment in County Durham is auctioning its silverware collection to raise money for a memorial.
The ornate silverware, which once graced the tables at the officers' mess, will be sold to raise money for a bronze statue.
Durham Light Infantry (DLI) hopes the collection, which includes a solid silver punch bowl and posy vases, will fetch between £40,000 and £60,000.
Colonel Arthur Charlton said it was a chance to get a "piece of history".
The collection, which also includes punch bowls, meat skewers, sets of knives and forks, rose bowls and salvers, is mostly from the 3rd and 4th Militia Battalions of the DLI, forerunners to the Territorial Army.
Col Charlton said: "The regimental trustees want to support the campaign as much as they can and this is unused silver put to its best purpose.
"What we would like to do is ensure that everyone who served in the regiment is aware of the auction and gets the opportunity to buy a piece of their history."
The bronze statue will be a replica of a DLI memorial statue that was unveiled at the National Memorial Arboretum in Staffordshire in July 2012.
The statue, which is based on a photograph of the then 18-year-old Colour Sergeant Brandon Mulvey, from Chester-le-Street, will be placed in Durham City.
The memorial serves as a permanent reminder of the sacrifices of all who served in the regiment.
There will be 132 lots at the Anderson and Garland auction on 27 March.