Window cleaner John Kirk rescued from own roof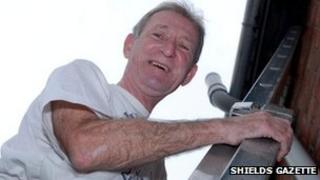 A window cleaner had to be rescued from his own roof after his ladder started to wobble as he tried to fix a leak.
Neighbours heard John Kirk shout for help and called the fire brigade to his home in Ebor Street, South Shields.
Firefighters used a ladder to bring the 64-year-old father-of-two and grandfather-of-one, to safety just as it was getting dark.
Mr Kirk said the five firefighters who rescued him were a "Godsend" but were trying not to laugh.
He said: "I got up okay, but it's a long way up - about 30ft - and coming down was a different matter.
"I was slipping on the tiles and the ladder was wobbling.
"The neighbours heard me calling out and tried to hold the ladder but it was no good and they had to call the fire brigade."
'Trying not to laugh'
Mr Kirk said his rescuers arrived within five minutes of the incident happening on Sunday and he was only trapped for 15 minutes.
He added: "They were great as I could have been up there all night.
"They were trying not to laugh though, as I was the window cleaner who could not come down his own ladder.
"The more times you go up a ladder your odds increase of something happening - a few years ago I broke my pelvis in two places.
"On this occasion I could just feel the ladder slipping."