Lord Mayor of Newcastle's coach sells for £50,000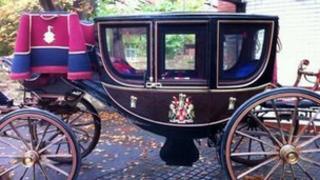 The Lord Mayor of Newcastle's official coach, which is more than 200 years old, has been sold for £50,000.
The coach, made in 1798, was "reluctantly" put up for sale by the city council last year to help cover a £100m "funding gap".
It has been jointly bought by the Freemen of Newcastle and Freddy Shepherd to go on public display.
Mr Shepherd said he and his family were "delighted" the carriage will be staying in the city.
The coach was originally pulled by dray horses and escorted by bowler-hatted draymen from the former Scottish and Newcastle brewery.
Once regularly used for important occasions, it was then only brought out of storage once a year for the Lord Mayor's Garden Party.
Mr Shepherd said: "As a Newcastle family we are delighted that the carriage is staying in the city and we can assure everyone that it will eventually go on display to the public."
The coach will be displayed in the former Military Vehicle Museum which the Shepherd family bought from the council and is currently being renovated.