New Archbishop of Canterbury's County Durham legacy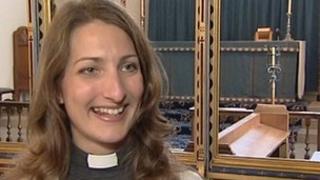 As the former Bishop of Durham, Justin Welby, is enthroned as Archbishop of Canterbury his influence will continue to be felt in the north-east of England.
After only a relatively short spell in County Durham - he became Bishop in November 2011 - he has admitted being "hugely disappointed" to be leaving the area.
But one of his final appointments will help ensure that he leaves behind a legacy.
The Reverend Emma Johnson has started a five-year role working in Easington Village and the former mining community of Easington Colliery. The area has faced deprivation problems over the years.
It was part of Bishop Welby's aims to encourage growth and help all communities to flourish.
Ms Johnson said: "I'm really excited and thrilled he's in this new position and I think he'll remember the North East as well and what we're trying to do here."
'Inspire people'
The 30-year-old churchwoman, who turned down an opportunity in Australia, chose the Church of St Mary's in Easington Village to "help people find a voice" and fulfil their potential.
Among her aims are to promote a "vibrant church" that will be "life-giving" for the whole community and to reach out to all age groups and all backgrounds.
She wants to provide something "energetic" that will give people "hope and companionship".
Her initial thoughts are to go into schools and out on to the streets to meet people and draw them together. One focus will be starting a group for people in their 20s and 30s.
The church's attendance has fallen over the past 40 years and Ms Johnson, originally from Sunderland, is looking at ways to reverse the trend.
She said: "People often hark back to the old days when it was full and lively in their time.
"I think what we really need to do for the church and for the community is inspire people to re-imagine, so re-imagining isn't remembering what was in the past and saying we want what was in the past, it's about freeing people to re-imagine what the future can be, which might be completely radically different, but that does take a long time.
"Our aim isn't necessarily to fill the pews and for bodies to be in here. Our aim is to create a piece of heaven on earth, so that might be in someone's front living room, it might be in a garden, it might be in a church hall, it might be in the welfare hall, but wherever you meet, you're meeting knowing that there is heaven on earth and that God is with us and there is hope."
'Big miss'
Olive Emerson, who visits the church regularly and calls it her "second home", said she would like to see more young people coming.
She said: "I think we need a miracle, I think all churches are the same, I don't know if there are too many things for youngsters to take them away. We need the basis of young people to grow in the church."
Ms Emerson called the appointment of Bishop Welby to the Church of England's top job as a "big miss for Durham".
June Beadle, who has been using the church since 1938 and has been a member of the church council for 61 years, thinks he will do a "jolly good job".
"He was lovely when he was here. He came here and he was just one of us and I feel that's what's needed," she said.