Nurses rescue children and mother from fire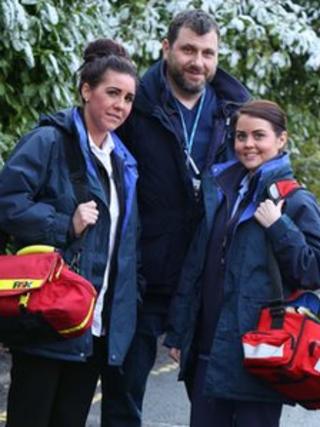 Nurses visiting a patient rescued a mother and her three small children from a fire in a neighbouring house.
Urgent care staff from South Tyneside NHS trust were on Gateshead's Leam Lane Estate when they spotted the "glow in a window" of a cooker on fire.
"Adrenaline kicked in. We knew we had to get whoever was in there out as quickly as possible," Sara Spry said.
A woman came out with two children but one of the team, Barry Wanless, went back into the house for a third child.
"The mother was quite shocked and confused," he said.
"When one of the children said their sister was in bed I had to go in and get her."
He said the smoke was thick but he found a little girl asleep in the second room he tried.
Trust chief executive Lorraine Lambert said: "We could not be prouder of these staff. They showed enormous bravery.
"The fact that Barry, Sara and Kerry went on to see their patient typifies the professionalism and dedication of our staff."
Tyne and Wear Fire and Rescue Service pointed out the staff had fire safety awareness training and repeated advice for members of the public not to enter a building on fire.
"This incident should also act as a reminder to all to never leave cooking unattended," station manager Mark Witherspoon said.