Bridge to close for five weeks to complete £600,000 revamp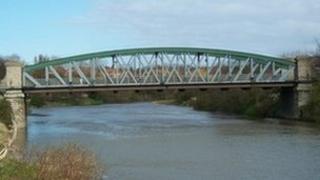 The Penshaw to Fatfield bridge is to close for five weeks to carry out final work on its £600,000 revamp.
Sunderland City Council said traffic will be diverted to the A182 Washington Highway during the closure. Pedestrians will still be able to use the bridge.
The final part of the six-month project will be to carry out work on the stone pilasters at the bridge's four corners.
Councillor James Blackburn said he was "delighted" it was being restored to its "former glory".
The bridge crosses the River Wear and links Station Road on the south to Worm Hill Terrace on the north side.
It is the oldest river crossing overseen by Sunderland City Council and dates back to the 1890s.
The bridge closes from Monday.