Danio faces two weeks stranded on Farne Islands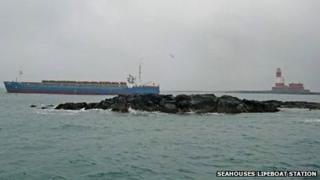 A cargo vessel which ran aground off the Northumberland coast could be stranded for a fortnight if it is not rescued in the next 24 hours.
Seahouses Lifeboat Station received a distress call from the 262ft (80m) vessel Danio early on Saturday.
The ship got caught on rocks on the Farne Islands about 3 miles (5km) from the mainland.
Ian Clayton, from the RNLI, said if it was not moved on Monday it could be stuck for two weeks due to lower tides.
Mr Clayton said they were waiting for more salvage equipment to be brought in and it was "extremely unlikely" there would be any attempt to move the vessel on Sunday.
The ballast tanks have been filled with sea water to make the vessel more stable should a storm hit the area, Mr Clayton said.
Timber cargo
It was hoped the ship would be moved by a tugboat during high tide on Saturday, but crews decided not to attempt to refloat the vessel as they were keen to "take their time" and "prepare a plan".
The crew of six spent the night on board.
The vessel, which was built in 2001 and registered in Antigua and Barbuda in the Caribbean, was sailing from Perth to Antwerp in Belgium with a cargo of timber.
It ran aground near Little Harcar rock, close to the Longstone Lighthouse, at about 04:30 GMT on Saturday.
Mr Clayton said there were concerns about possible environmental damage if oil started leaking from the vessel, but there have been no reports of any leaks.
The Farne Islands are home to about 80,000 pairs of seabirds and a large grey seal colony.