Northumberland heritage projects secure lottery cash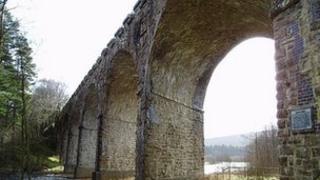 A project to protect rare bats in Northumberland and another to research the history of a 19th Century viaduct have been awarded lottery cash.
The National Trust has been given £36,900 for a three-year project to study bat colonies along Hadrian's Wall.
A further £34,500 will go to volunteers researching the history of the listed Kielder Viaduct.
Both schemes are due to get under way later this year.
A spokeswoman for the Heritage Lottery Fund said: "These two projects reflect the wonderful breadth of heritage in Northumberland.
"The investment will not only enable people to have better access to our heritage, but will also offer a fantastic range of training and volunteering opportunities."
The Batlife project will train 15 volunteers to collect and record bat identification, run workshops in bat-box building, and help develop a bat walk and a digital bat trail.
The Kielder Water and Forest Park Development Trust will use its grant for a six-month project focussing on the social and industrial heritage surrounding the viaduct, which was built in 1862 to carry the Border Counties Railway over the North Tyne River.
Volunteers will gather archived information on the railway as well as gathering information to fill gaps in the viaduct's history.