Hadrian's Wall to get £10m visitor centre and hostel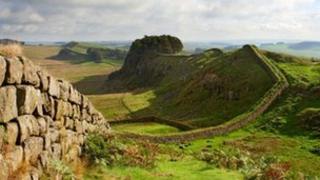 More than £10m is to be spent on a new visitor centre and youth hostel on Hadrian's Wall in Northumberland.
The project will replace facilities dating back to the 1960s at Once Brewed, near Hexham.
The scheme, backed by the Northumberland National Park Authority and Youth Hostel Association (YHA), will also create 60 full-time jobs.
Detailed plans will now go out for public consultation before a date is confirmed for construction to start.
Tony Gates, chief executive of Northumberland National Park Authority, said: "This area has built up a fantastic international reputation for its association with Roman history, but it is often also the broader landscape which makes a lasting impression on visitors and inspires them to return.
"The project itself will offer a fantastic educational asset and resource for the North East and UK as a whole, as well as very real gains in terms of attracting visitor numbers and spend, creating new jobs and boosting the local economy."
YHA property director, Jake Chalmers said: "People value the history, beauty and landscape of this place and the great welcome and social atmosphere we offer, so much so that we've had a youth hostel here since 1934."