Belford Pigeon Club faces tax blow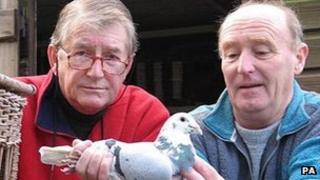 A tax row over a shed used by a pigeon club in Northumberland has resurfaced.
Five years ago the club in Belford was told it had to pay rates on the shed in which it stores race baskets.
As pigeon racing was not classified as a sport the club was not due a sporting exemption, but after an appeal to the Queen, the local MP and HM Revenue and Customs, it was granted 100% relief.
However, the county council has now said it wants to start collecting the 25% share of tax it is entitled to.
The shed, which does not have any water, electricity or waste collection, is used to store the race baskets, and occasionally to ring the birds.
No tax has been paid since 2007, when members of the club wrote to the Queen, the patron of the Royal Pigeon Racing Association (RPRA), and local MP Sir Alan Beith also raised the matter in the House of Commons.
'Policy reviewed'
However, while an exemption of 75% by HMRC still applies, the county council wants to collect its share, which amounts to £37.54 for 2013.
Eric Sim, the club's secretary said it was a matter of principle, rather than the amount involved, though there was concern that the sum could rise over the next few years.
"I still say we shouldn't be in their system anyway," he said.
"You don't pay rates on a garden shed on or an allotment.
"You could argue that those are used to store gardening stuff, the fact that we use it to store pigeon racing baskets shouldn't make any difference."
In a statement Northumberland County Council said it had reviewed its discretionary rate relief policy and made some small changes to the assessment criteria, in consultation with voluntary sector representatives.
It advised any organisations with queries regarding the level of relief granted to contact its business rates section.