The Cyrenians could get £10m in lottery funding for Tyneside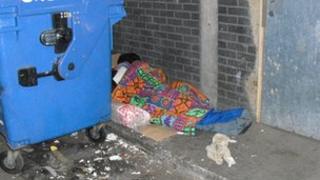 A charity helping people with drug, mental health and homelessness problems on Tyneside could get up to £10m of lottery funding.
The Cyrenians and their charity partners have been given £50,000 to devise a plan by the end of September to help people with multiple needs.
The Big Lottery Fund will then decide how much money to grant them.
The aim is to coordinate services for the most troubled people in Newcastle and Gateshead.
The Cyrenians help people with a range of problems, including homelessness, drug abuse and mental illness.
Assistant director Neil Baird said it was "uniquely placed" for the project.
"One of the most important things is coordination," Mr Baird said.
"There can be numerous services involved in supporting a person and often it's that person who has to almost manage those relationships."
David McCormack, who was previously helped by The Cyrenians and has now worked for them for six months, said services for homeless people were "much better" now than when he was sleeping rough.
"The help you get now compared to seven years ago is unbelievable," he said.
But he also said the funding to help people with multiple needs should have come in at that time.
The potential £10m investment is one of 10 projects in a £100m lottery fund aimed at people with multiple and complex needs in England.
Mental Health Concern and Aquila Way are partners in the bid from The Cyrenians.