North Tyneside seafront lampposts removed in high winds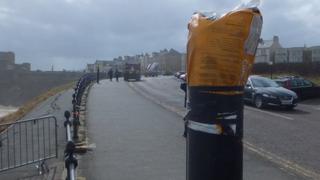 High winds have led to the removal of a number of street lights from the North Tyneside seafront.
The council said one lamppost came down on a grassed area in Whitley Bay over the weekend in extreme weather.
Following safety checks, SSE, which maintains the columns on the council's behalf, has now taken down 24 from Tynemouth, Cullercoats and Whitley Bay.
Remaining lights were being inspected on a daily basis and those removed will be replaced over the next few weeks.
The lights were installed as part of PFI funding, during which the life of the column was guaranteed for 30 years.
North Tyneside Council said there been had no problems in locations away from the coastal strip.
'Differently constructed'
However, it said SSE would be changing the type of the columns in these areas, as a precaution, at no additional cost to the authority.
Lamp posts were taken down from outside Whitley Bay's Spanish City, Grand Parade in Tynemouth, and the stretch between the Blue Reef Aquarium and St George's Church in Cullercoats.
A spokesman from SSE said that there had not been any issues with that type of column previously.
He said: "Engineers tested all 117 in the area and took down 24, purely as a precautionary measure.
"We have ordered new columns which will be put up in April. They look similar but are differently constructed."