Lamb is lucky find for Sunderland police officer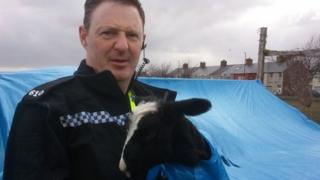 A hand-reared lamb has been reunited with its owner, thanks to a sharp-eyed Northumbria Police officer.
PC Graeme Simpson was on his way to work in Sunderland when he spotted two people acting suspiciously.
He alerted fellow officers and they recovered a three-day-old lamb, which was subsequently found to have been taken from a farm in the Penshaw area.
Two men aged 18 and 26 were arrested on suspicion of theft and later bailed pending further inquiries.
The lamb was returned to the famer, who has now named it Lucky.
A Northumbria Police spokesman said: "The lamb is currently being bottle-fed special milk and probably wouldn't have survived the night had it not been found and taken home.
"This also proves that suspected suspicious activity should always be reported to us so we can take action."