Dozens of dead seabirds washed up on County Durham coast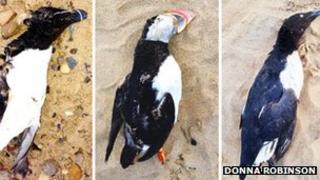 Dozens of dead seabirds have been washed up along the County Durham coast.
Durham Wildlife Trust said several dozen birds including puffins, razorbills and guillemots had been found in the past few days.
It is believed the birds had been struggling to find food or had succumbed to exhaustion in harsh conditions, the charity said.
The trust said it hoped there would be "better conditions" for the birds soon.
Trust director Jim Cokill said: "There's no sign of pollution so we assume that they have been caught up in the storms along the coast in recent days.
"Some of the birds may be from areas further to the north and have been washed south by the prevailing current.
"These things do happen from time to time in the North Sea. It's a perilous life being a seabird and all we can do is hope for better conditions in the days and weeks to come as the breeding season gets under way."
The Royal Society for the Protection of Birds (RSPB) said more than 200 birds had also been found along the East Yorkshire coast.