Reward after Nobel Prize medal stolen in Newcastle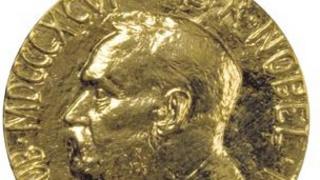 A £30,000 reward has been offered by two businessmen for the return of items stolen in a Newcastle raid which include a Nobel Peace Prize medal.
The lord mayor's Mansion House, in Fernwood Avenue, Jesmond, was broken into overnight from Monday to Tuesday.
Other items stolen were a lock of hair from naval Admiral Lord Collingwood and antique silverware.
The families of Freddy Shepherd and Graham Wylie have offered the reward for the return of all the items.
The gold Nobel Peace Prize was awarded to Newcastle's Arthur Henderson in 1934 for his work on international disarmament in the run up to WWII.
Temporary Supt Bruce Storey, of Northumbria Police, said: "Some of the items that were taken are very uncommon.
"The Nobel Peace Prize has been awarded 93 times to 124 Nobel Laureates between 1901 and 2012 and so the stolen item is extremely rare, recognisable and historically important to the north-east of England."
'Great historical significance'
The Mansion House is used by Newcastle City Council for civic receptions and to receive visitors.
Chairman of the Mansion House Trust, Councillor Ged Bell thanked the families of Freddy Shepherd and Graham Wylie for putting up this reward.
He said: "These items are of great historical significance to the city and we want them back."
Annika Pontikis, from the Nobel Foundation, said she hoped the medal would be found but if it was not it would be possible to supply a replica.
"If they don't find it and the owner of this medal approaches us to ask for a new replica in solid gold we would help them," she said.