Farne Island rangers to carry out 'puffin census'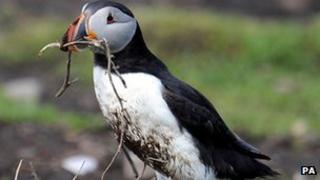 Preparations are being made for the first survey of puffins on the Farne Islands, off the Northumberland coast, in five years.
The last "puffin census" in 2008, carried out by National Trust rangers, recorded 36,835 pairs.
This year's survey, expected to be carried out next month, will involve a team checking about 40,000 burrows.
Thousands of birds have been seen returning to the islands, despite many succumbing to recent extreme weather.
Ranger David Steel said: "Having been seen in small numbers around the islands in the last few days, we are finally seeing the first large scale invasion.
"Several thousand rained down upon the islands for the first time this year. After a long, tough winter, they got down to business quickly, inspecting burrows and beginning their spring cleaning.
"The weather wasn't great on Saturday, meaning the islands weren't open for business so we had nobody to share them with."
Last month dozens of dead seabirds, including puffins, were washed up along the County Durham coast, with experts blaming bad weather and a shortage of food.