Man charged after Nobel Peace Prize stolen in Newcastle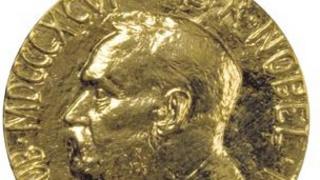 A man has been charged with burglary after a Nobel Peace Prize medal and other items were stolen in Newcastle.
The medal was taken, along with antique silverware and a lock of hair from naval Admiral Lord Collingwood, during a raid at the lord mayor's Mansion House in Jesmond.
A 21-year-old man has been charged and will appear at Newcastle Magistrates' Court on Monday, police said.
A man, 20, has been arrested and bailed and a man, 64, remains in custody.
A reward of £30,000 had earlier been offered for the return of the items.
The gold Nobel Peace Prize was awarded to Newcastle's Arthur Henderson in 1934 for his work on international disarmament in the run up to World War II.
Newcastle City Council uses the Mansion House for civic receptions.