Newburn flood flats: £10m culvert repair stage completed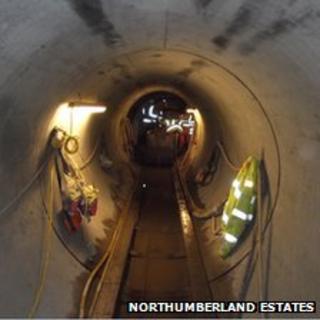 A stage of repairs near a block of flats left close to collapse after flooding has been finished.
Flood water disturbed ground beneath Spencer Court, Newburn, Newcastle, damaging the foundations when a culvert collapsed during flash floods.
Residents were moved out in September and the flats were later demolished. The cause of the collapse is unknown.
Northumberland Estates said water could now flow through the culvert again after a £10m repair project.
David Ferguson, spokesman for The Northumberland Estates, said: "We wish to thank the local community for their understanding throughout this difficult time.
"We remain committed to supporting residents to enable them to return to their homes as quickly as possible.
"Returning the culvert on our land to full working order is a key milestone in this process."
Residents have not moved back on to the estate.
About 40 million litres (8.7m gallons) of water was pumped out of the estate following the downpours.
No-one has admitted liability.
Update 24 April 2013: This story has been changed to reflect information from the developer.