Tyne pedestrian tunnel to shut for one year revamp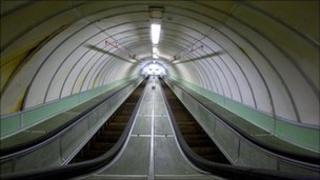 The Tyne pedestrian and cyclist tunnel is to close later for £4.9m refurbishment which is expected to last a year.
All four of its original escalators are "beyond economic repair" and two will now be replaced with lifts.
During the repairs a free shuttle bus will run between the entrances at Howden and Jarrow from 06:00 to 20:00 BST daily.
A service is also being provided for night shift workers.
Paul Fenwick, project director for the tunnels' owners, the Tyne and Wear Integrated Transport Authority, said: "We hope the message of the closure has now been received by everyone who uses, or intends to use, the tunnels.
"We have more than 30 people signed up for the night service which is in line with our estimates.
"We are asking people to be flexible and tolerant while this service beds in and allow more time for their journeys."
The new so-called inclined lift can carry up to 27 people as well as accommodate bicycles, tandems wheelchairs, pushchairs and smaller motorised disabled scooters.
The Grade II-listed tunnel, which opened in 1951, is used for about 20,000 journeys each month.