Sunderland Hilton Hotel plan promises up to 250 jobs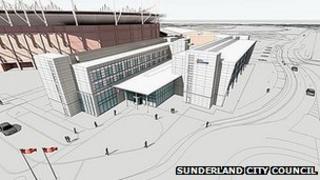 Up to 250 jobs are being promised after hotel group Hilton revealed plans for a 140-room development close to the city's football stadium.
Sunderland City Council welcomed the plans as "very exciting", adding that a formal planning application was being prepared by the company.
The Stadium Park scheme is expected to create 150 construction jobs, with a further 100 at the hotel.
Building work is due to start early next year, after a public consultation.
The announcement comes after council bosses expressed concern that there was a lack of accommodation for visitors attending large-scale events like the Sunderland International Airshow.
Council leader Paul Watson said: "Having such a quality hotel will have a tangible economic impact on our city, and particularly its city centre.
"Stadium Park welcomes hundreds of thousands of visitors each year, through football matches, concerts and other major events and this extra hotel provision will unlock further growth and development in the city through leisure and business tourism."
The city council recently acquired the land for the development and a newly-formed company, Sunderland FC Developments, which is affiliated to Sunderland AFC, will deliver the project.