Parachutist rescued from tree in County Durham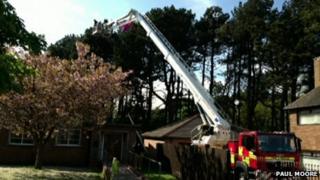 A parachutist on his first sky dive had to be rescued when he became stuck up a tree for three hours.
Durham and Darlington Fire and Rescue Service said a man landed 60ft (20m) in a tree on St Cuthbert Road in Peterlee at about 15:20 BST.
The man, believed to be in his 20s, was rescued at about 18:30 and was taken to Sunderland Royal Hospital as a precautionary measure.
Eyewitnesses said he appeared to be unharmed.
A brigade spokesman said crews had difficulty accessing the man but eventually managed to reach him on an aerial platform.
It is believed that he was meant to land at Peterlee Parachute Centre in Shotton Colliery but drifted off course.
Eyewitness Tom Maddison said: "He was well and truly stuck, he seemed to be fine, he was talking to the paramedics and the fire brigade."