Morpeth racing jockey Peter Craggs, 64, races again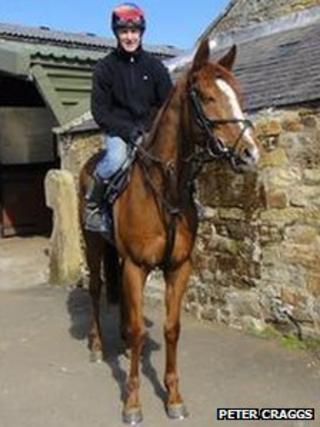 A Northumberland jockey set to race again after a 14-year gap will be a "bit like riding a bicycle".
Peter Craggs, from Morpeth, retired in 1999 at the age of 50 and had been racing for 44 years.
He first tasted high-profile glory in 1978, when he rode King Con to victory in the Scottish Grand National.
Now, he will don his riding helmet again, for a charity race at York to raise money for Macmillan Cancer Support.
But the retired jockey does not feel nervous about competing again.
He said: "It's a bit like riding a bicycle, you can go back and ride in a race as long as you're reasonably fit.
"I ride four or five mornings a week, horses keep me fit and I gallop most days."
'Stable lads and lasses'
The charity is close to his heart, he said.
"I lost a very good friend through cancer and it's a charity I've always supported," Mr Craggs said.
He will join a group of ex-jockeys, ex-amateurs and "stable lads and lasses", as he calls them, in a charity race during the Macmillan Raceday.
In 2012, the annual meeting raised £300,000 for Macmillan Cancer Support.
Each jockey has to raise £2,500 for the charity and the winner of the race that takes place on Saturday 15 June will be rewarded with a case of bubbly.