Army receives Terrier remote controlled diggers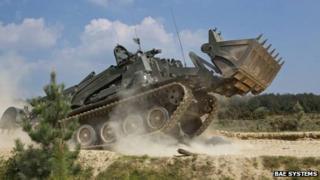 The British Army has taken delivery of a batch of remote controlled armoured diggers.
The Terrier vehicle, which can reach speeds of almost 50mph, can be used to dig holes, drill into ground and shatter concrete.
BAE Systems has built 60 of the models at its Newcastle factory as part of a £360m project.
It was trialled and launched at the Royal Engineers' Defence Armoured Vehicle Centre in Bovington, Dorset.
The vehicle can be adapted to carry a forklift or rock hammer.
General Sir Peter Wall, chief of the general staff for the Army, said the Terrier's "versatility" would be of huge benefit.
The Terrier can be operated by remote control from up to 1km (0.6 miles) away.
Defence minister Philip Dunne said: "The Terrier vehicle is a great example of the contribution that the British defence industry makes to our armed forces."