Seized crime cash supports Shotton Colts youth football team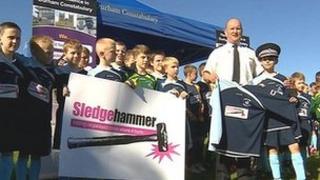 Cash seized from criminal gangs is being used to help fund youth football teams in County Durham.
Durham Police has given strips worth more than £2,500 to Shotton Colts in Shotton Colliery, near Peterlee.
The club organises teams for groups aged between 5 and 12 and regularly has 150 girls and boys taking part.
The money was seized under the Proceeds of Crime Act and followed arrests as part of the force's Operation Sledgehammer targeting organised crime.
'Very welcome'
Chief Constable Mike Barton said: "This is the idea of local beat cops who thought we should share some of the cash we get back to help local kids playing sports.
"We get over £400,000 a year from villains and we want to put this back into the community.
"We spend some of the money we get back from criminals on things like staff, but we're also talking about helping kids out and hopefully creating ambassadors for the police in the future."
As part of the deal the team's blue shirts will display the Operation Sledgehammer logo.
Club secretary Peter Hilton said: "The cash is very welcome and means we will be better equipped to get through the next season."
Money and assets seized under the POCA go to the Home Office, which re-distributes them across the criminal justice system.
Founded in 2000, Shotton Colts teams compete in the Russell Foster youth leagues.