Flood defences in North Tyneside get £4.75m investment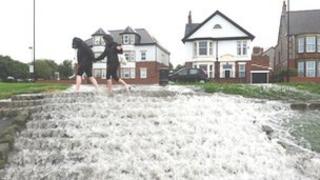 More than £4.75m is due to be spent on flood prevention in North Tyneside.
Schemes range from clearing culverts and preventing blockages by replacing grilles to major engineering projects.
New flood inspectors are being appointed and the 38 worst affected areas will have dedicated flood plans and equipment.
North Tyneside Council's cabinet member for housing and the environment John Harrison said the work was a "major contribution" to alleviating flooding.
The council has formed a flood prevention partnership with Northumbrian Water, The Environment Agency and emergency services.
Mr Harrison said: "The North Tyneside Surface Water and Drainage Partnership is determined to do whatever we can to help alleviate the risks and make this borough more flood ready, flood safe."
Torrential rain in June 2012 left roads closed, rail services cancelled and hundreds of homes flooded and without power across Tyneside.
Residents have been warned to make their own preparations for severe weather in the future.
The council said it had introduced "major changes" to how it responded to flooding.
"To be effective it also has to be a partnership with individuals and neighbourhoods," Mr Harrison said.
"The flood wardens and information sharing to make sure people are better prepared is just as important if we are going to work together to make a difference."