Northumberland couple's flowers worth £1,000 stolen on wedding day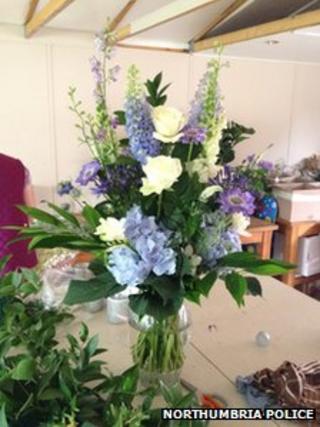 A couple have had £1,000 worth of flowers stolen in Northumberland on the day of their wedding.
The flowers were taken overnight between 20:30 on Wednesday and 08:30 GMT on Thursday from the florists in Allerburn, East Heddon.
Police said florist staff worked "very hard" to arrange alternatives.
Sgt Mick Quinn said the thieves knew exactly what they were taking and that to steal them was "completely heartless and thoughtless".
He added: "Everyone knows that a wedding day is one of the happiest days in someone's life and this theft could potentially have ruined someone's day."
Claire Young, from Wedding Flowers for You, said she was in "complete and utter shock" when she realised they had been burgled.
"The bride is completely unaware of the situation as we didn't want to spoil her big day.
"It was frantic this morning but we rang the flower wholesaler and managed to remake every item and deliver it to the venue on time.
"It was a little bit scary when we first realised, but what else could we do?"