HMS Tyne welcomes crowds at North Shields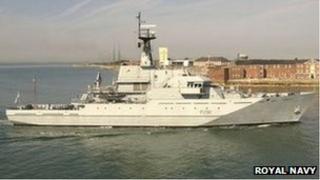 Royal Navy warship HMS Tyne is attracting crowds on a visit to Tyneside for an annual festival.
The ship is berthed at Western Quay, North Shields, during the Mouth of the Tyne Festival.
Commanding officer Lt Cdr Robert Laverty said: "We have strong connections with the North East and look forward to welcoming as many people as possible onboard over the weekend."
HMS Tyne entered service in 2003.