King's School merger: Government asked to halt plan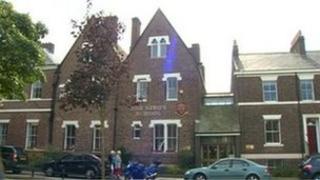 A council has stepped up its fight to stop two schools in Tynemouth merging to become an academy, saying it would take pupils away from other schools.
Dwindling numbers at fee-paying King's School prompted it to apply to join state-funded Priory Primary School - a move backed by the government.
But on Wednesday North Tyneside Council voted to fight the move and ask the government to reconsider its decision.
Parents in favour of the academy said it would give more choice.
They believe a legal fight would wastes hundreds of thousands of pounds of taxpayers' cash.
Education Secretary Michael Gove approved the academy earlier this year and the Woodard Academies Trust, which plans to run the Kings Priory Academy for children aged four to 18, said it was "adamant" it would open in September.
The council said Priory Primary School pupils, who would have continued into local state secondary schools, would now stay in the academy.
On Wednesday evening council members voted to write to the education secretary asking him to reconsider.
'Difficult decisions'
But parent Matt Verlander, who has two children in the Priory School, said the new academy would make little difference to surplus places and that pupil numbers were dwindling anyway.
He said: "Having an academy will give parents more choice on where to send their children.
"Surplus place numbers were already rising and the academy would only contribute to this by about 2%."
Councillor Ian Grayson, cabinet member for children, young people and learning, said: "If this academy is allowed to go ahead we would have to review the current schools provision and make some very difficult decisions about reducing the number of substantial spare school places that would result from this merger."
A council spokesman said that if "a satisfactory response" was not received, the authority would need to consider whether to issue judicial review proceedings to enable a court to review the decision-making process.