River Wear search for girls at Fatfield: Two bodies found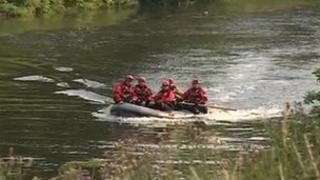 Two bodies have been found by police divers searching the River Wear in Tyne and Wear for two missing teenagers.
Passers-by tried to rescue the girls when they were seen to be in difficulty near a viaduct in Fatfield, Washington, just before 15:00 BST.
Search teams found one body earlier and a police spokesman confirmed the body of a second female had been found.
About 100 people have been involved in the search, including police, fire crews and a coastguard team.
Supt Alan Veitch of Northumbria Police said earlier: "There were two people on the banks who saw the children in difficulty.
"One was an off-duty police officer going for a run who dived in and saved a boy who was trying to save one of the missing girls.
"Another gentleman dived in and swam the width of the river to get to one of the girls but he came up empty-handed. He was distraught as you can imagine."
'Rescuer almost drowned'
He said that the river was still tidal at the point where the girls went missing and there was a lot of debris and foliage in it.
Paul Cronin, who lives nearby, said that one of the would-be rescuers had almost drowned in the attempt.
He said: "This gentleman came running up towards the park and I thought it was strange because he was dressed in his boxer shorts.
"He had just crawled out of the river and had nearly drowned himself."
A Northumbria Police spokesman said that the families of both girls had been informed and the search had been scaled down.
He added: "Inquiries will now be carried out into the circumstances surrounding the incident."