North East's declining water voles 'battling' to survive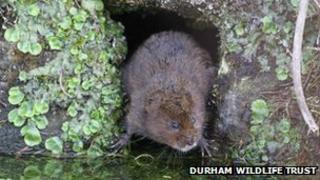 Water voles in the North East are "battling" to survive after numbers fell by more than a fifth, according to Durham Wildlife Trust.
Research by the Environment Agency and the trust found although there are some areas where water voles continue to thrive, the species remains vulnerable.
Now environmentalists are appealing for help to save the species by helping populations reconnect and expand.
The trust said maintaining the species' habitats is "key" to their survival.
According to the trust, populations are also declining due to American mink eating them and extreme weather.
However, although the numbers are down by more than 20%, the survey found healthy populations of the vole in South Tyneside and Weardale.
Trust director Jim Cokill said they were "protecting existing habitats, but also working to connect isolated populations".
He added voles will have a better chance of survival once they have created new wetlands and ponds "where water voles can take refuge from extreme weather".
"However, the predatory prowess of the American Mink and habitat fragmentation still threaten populations in most parts of the Durham Wildlife Trust area," he said.