Steven Grieveson trial: How mistakes were made in deaths inquiries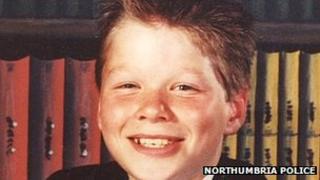 As a man is convicted of murdering a fourth teenager more than 20 years ago, it has emerged there were mistakes in the original investigation into all four deaths.
Steven Grieveson has been found guilty of the murder of Simon Martin who was found strangled in Gillside House, Roker, Sunderland, in 1990.
In 1996, Grieveson was convicted of the strangling murders of Thomas Kelly, 18, and two 15 year olds, David Hanson and David Grieff, between 1993 and 1994 and given three life sentences.
During the latest trial, the killer claimed all the deaths were accidental.
Mistakes in the initial investigation into Simon's death included a pathologist failing to spot strangulation marks on the teenager's neck and their theory that he had died within 48 hours of his body being discovered when in fact he had been dead for a week.
Police also did not consider it might have been a sexual assault.
Northumbria Police interviewed Grieveson, who had 12 criminal convictions at that point, three days after Simon's body was found because the pair had been seen together.
Grieveson told them he had never been inside Gillside House and they took him at his word.
'More sinister'
Then, between 1993 and 1994, the bodies of Thomas Kelly, David Hanson and David Grieff were found with ligatures around their necks and their bodies badly burned.
Cans of lighter fuel and glue were found beside the bodies and it led to Northumbria Police wrongly believing the three had been experimenting with glue sniffing and possibly drugs.
All three were pupils at Sunderland's Monkwearmouth School which was then labelled a "drug school" by the media.
Jim Farnie, who was headteacher at the time of the boys deaths, said he was "angry" at this accusation as there was "no evidence" of any drug use at the school.
He said: "No headteacher likes unwanted publicity like that about the school.
"I became very angry first of all for the parents of the boys who had this label, but also it labelled the rest of the students and the school as well as a drug school."
He said the "vast majority" of people felt there was something "a lot more sinister" going on and their deaths were too much of a "coincidence" to be accidental.
It was eight months before the case was reviewed with a new detective in charge changing its focus and it then emerged that all three teenagers had been strangled.
After a six week trial in 1996, Grieveson was convicted of all three murders. Despite maintaining his innocence throughout the trial, in 2004 the victims' families were told he had confessed.
Mr Farnie accepted that police had had a "difficult job" at the time but he had always found it difficult to believe the boys' deaths were self-inflicted.
He said thinking about that time now, there was still anger that the school, which he said had a good reputation, was labelled as somewhere where pupils were turning up on drugs and that was not the case.
On the subject of whether he thought the solvent abuse theory had hampered the investigation, he said: "On reflection, I think it probably did. If you have your mind made up that this has happened and it was self-inflicted, why bother looking for anybody else."
'Haunted by killing'
In 2000 a sample of DNA found at the scene underneath Simon's body was sent for analysis as part of a case review and matched to Grieveson.
He was subsequently arrested but not charged as the Crown Prosecution Service (CPS) said there was "insufficient evidence". He was only charged with Simon's murder in 2012.
At the start of his trial for Simon's murder, the court heard how Grieveson accepted that he had killed the teenager but claimed it was accidental.
The jury was told he had confessed the killing to police because it had "haunted" him for 20 years.
Det Supt Roger Ford, current head of Northumbria Police 's major crime team, said the investigation into Simon's death had been "difficult".
He said there were no direct eyewitnesses, no forensic evidence in 1990 and there had been potential sightings of Simon after he went missing which had to be checked.
"We now know that he [Grieveson] went on to be a serial killer but at that time there was nothing to indicate that and nothing to indicate he was lying and [Grieveson] wasn't particularly significant at the time of the investigation," he said.
"Albeit now with the benefit of hindsight, clearly we can see that [he] was."
He added the way investigations were carried out had changed dramatically since 1990 and that was supported by forensic work developments and so the investigation should not be judged by today's standards.
He said: "We need to place it in the context of 1990 and not judge it with 2013 standards."
He praised the work of the detectives involved in the review of the investigation into the three teenagers' deaths and those involved in bringing Grieveson to justice for Simon Martin's murder.
He said: "There is no doubt that Grieveson is a serial killer, cold, calculated who has cast a shadow over Sunderland for two decades."