Protest over under-threat County Durham care homes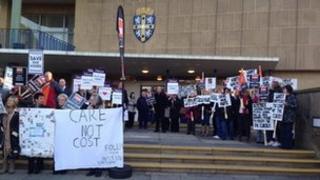 Protesters gathered to fight for the future of five under-threat council care homes.
Durham County Council is considering shutting the homes in the face of a £222m savings target for 2011-2017.
Unions led the protest at Durham County Hall and said they feared the council would put financial considerations before anything else.
About 50 permanent residents live in the homes and the unions said the jobs of 170 staff were at risk.
A three month-consultation about the homes in Belmont, Ferryhill, Peterlee, Chester-le-Street and Stanhope is under way.
It includes three options - keeping and repairing the homes, closing them and moving residents to independent homes or seeing if other organisations might take over the homes' management.
'Great distress'
Unison regional organiser Howard Pink said: "Unison's fear is that the council will put financial considerations above all else, and go for the option of closing the homes."
He said the protest before the full council meeting aimed to urge it to take other factors into account and "put compassion before cash".
He said they had concerns about the impact on "frail and vulnerable people" and that "forcing them to move will cause great distress and damage".
Council head of adult care Lesley Jeavons said: "The current consultation will help the council to understand the views of care home residents, their families and carers, as well as staff and a host of other interested groups and organisations on whether in-house residential care is fit for purpose and value for money.
"At a time of significant financial constraints it is right to consider these important questions and to ensure that everybody's points of view are listened to."