Stolen sheep go on show for farmers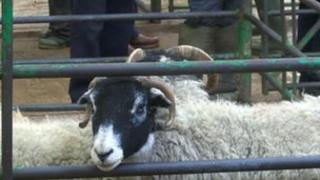 About a hundred farmers turned out for a sheep identity parade following a police crackdown on rustling.
Forty Swaledale sheep were on show at an auction mart in Kirkby Stephen, Cumbria.
The animals were among 150 ewes recovered following thefts from hill farms across the north Pennines.
Cumbria and Durham police have arrested six people in connection with sheep rustling in recent months.
The ewes were worth £100 to £150 each and stolen mainly from Cumbria and Teesdale.
PC Roly Earl, from Appleby Neighbourhood Police Team, said: "Sheep rustling is a problem year after year and the financial blow for farmers is huge."
Farmers have been blamed for some of the thefts.
Harry Hutchinson, one of the farmers at the event, said: "It's a disgrace to the farmers concerned but, to me, it's also a disgrace on the farming community.
"The whole thing is based on trust. You turn sheep on to a common and you expect to get them returned because you trust everyone."