Tyne and Wear automatic Metro ticket gates installed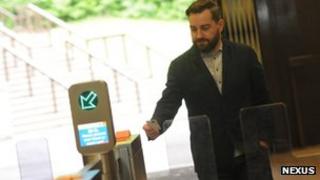 New automatic ticket gates have been installed on the Tyne and Wear Metro to stop people evading fares.
The gates have been put in from Newcastle Airport station to South Shields.
Nexus, which owns and manages the network, said they would be switched on in phases to give customers "time to get used to them".
Metro staff will be on hand to help passengers at stations where ticket gates are up and running, it added.
Bernard Garner, director general of Nexus, said: "The gates will allow us to clamp down on fare evasion and will mean that more stations are staffed, which improves security and customer service.
"I'm confident that Metro users will quickly get used to the gates and won't have any trouble using them."