Niall Quinn 'delighted' with freedom of Sunderland award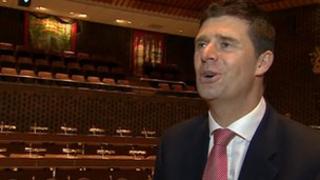 Sunderland football club's former striker, chairman and manager Niall Quinn has been awarded the freedom of the city.
As well as his contribution to the football club, the 47-year-old Irishman was also given the accolade for his charity and community work.
Quinn said his time with the Black Cats had been "unique".
Council leader Paul Watson said he had made an "outstanding contribution" to the city.
'Unique spirit'
Speaking after the ceremony at Sunderland Civic Centre, Quinn said: "All in all this just typifies what Sunderland has meant to me and my family.
"There was a unique spirit in that dressing room like no other I've ever been in and it wasn't because we were all footballers jettisoned in and we liked each other. It was because we all bought into what the fabric of the city was all about."
After leaving his role as chairman, Quinn became the club's head of international development. He left the Stadium of Light last year.
Sunderland gained city status in 1992.
Quinn also has the distinction of being the first player to score at Sunderland's Stadium of Light, against Manchester City in 1997.
Quinn, a Republic of Ireland international, donated all the proceeds from his testimonial game to charities including children's hospitals in Sunderland, Dublin and India.