Stanley Elite Buildings fire: Community spirit praised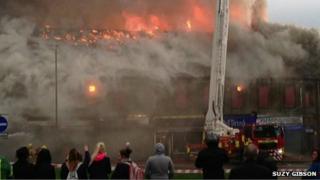 Senior officers have praised the "community spirit" of a County Durham town after a fire destroyed an Edwardian building.
About 30 firefighters tackled the blaze at Wong's Chop Suey House in the Elite Buildings, Stanley, on Monday.
People gave food and drink to the emergency services while about 10 buildings were evacuated.
Durham Police's Chief Constable Mike Barton, said he "really appreciated" the support over the last few days.
No-one was hurt in the incident.
Part of the the 100-year-old building is now being demolished.
Durham Police and Crime Commissioner Ron Hogg said: "This is a great example of how people in our communities can work together in difficult situations.
"The incident was handled well by all agencies involved and I would especially like to say a big thank you to those who donated food and drink to all of the emergency services who were on duty on Monday in Stanley."
A spokesman for Durham County Council said the demolition was "ongoing" and is expected to take until the end of the week.
St Joseph's Primary School, which had to be evacuated, remains closed until further notice.